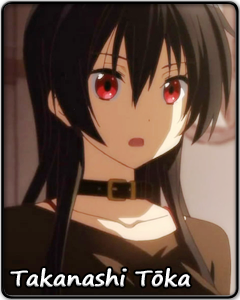 | | |
| --- | --- |
| Name: | Takanashi Tōka 「小鳥遊十花」 |
| Title Series: | Chūnibyō demo Koi ga Shitai! |
| Voiced by: | Sendai Eri |
Career ISML Performance
2013: 16th Place Nova Division. Record: (19-0-16)
2014: 18th Place Nova Division. Record: (17-0-18)

Moe Tournament Résumé
Round of 96 - Animefans Saimoe Tournament 2013
Round 4 - Girls Bracket 2013
Round 4 - Best Girl Contest 2014
Round of 96 - Animefans Saimoe Tournament 2014

As the Priestess of the Deep Horizon, Takanashi Tōka's job is to maintain order in the realm of the Wicked Eye. Whenever the wielder of the Wicked Eye is seen disturbing the peace of the universe or disappears to a different dimension, it is up to Tōka to find her, capture her, and make her understand her place in the current world.

As a temporary legal guardian, it is Tōka's job to monitor the daily actions of her sister, making sure the younger sibling is not being a bother to her neighbors or classmates. While Tōka cannot afford the time to watch over her sister's studies, she supports her protégé through lunch meals full of all the nutrients necessary for a growing young woman, even if the meals contain vegetables known to suck away one's mana.

As a sister, Tōka wants nothing more but to have her sister face reality, by force if necessary. It is too painful for Tōka to watch as one of her loved ones escapes into a world of delusions to hide from the pain of the past. Until the day she breaks through, Tōka has no intention of giving up.


Past Notable Matches

ISML 2014 Regular Season: (18th Place)
Amethyst 7: 3426-3316 over Chocolat (NōKome)
Topaz 3: 1931-2049 to Kuriyama Mirai (Kyōkai no Kanata)
Topaz 4: 2065-2134 to Momo Belia Deviluke (To LOVE-Ru)
Topaz 5: 2030-1968 over Haqua du Lot Herminium (Kami nomi zo Shiru Sekai)


Animefans Saimoe Tournament 2013: (Round of 96)
Round of 96: (283)-(370 + 29)-(306 + 3) to Morigana (Magi) & Elucia de Lute Ima (Kami Nomi zo Shiru Sekai)Ftt

Girls Bracket 2013: (Round 4)
Round 4: 764-1140 to Makise Kurisu (Steins;Gate)

Best Girl Contest 2014: (Round 4)
Round 4: 2439-4447 to Kirisaki Chitoge (Nisekoi)

Animefans Saimoe Tournament 2014: (Round of 96)
Round of 96: (281)-(467 + 8)-(653 + 7) to Sakura Kyōko (Puella Magi Madoka ☆ Magica) & Akemi Homura (Puella Magi Madoka ☆ Magica)