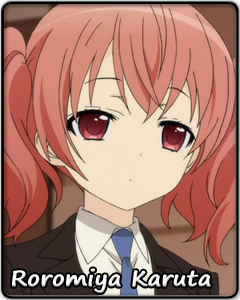 | | |
| --- | --- |
| Name: | Roromiya Karuta 「髏々宮カルタ」 |
| Title Series: | Inu × Boku SS |
| Voiced by: | Hanazawa Kana |
Career ISML Performance
2013: 29th Place Nova Division. Record: (8-0-27)
2014: 36th Place Nova Division. Record: (1-0-35)

Moe Tournament Résumé
Round 1 - Japan Saimoe 2012
Roud of 32 - Animefans Saimoe Tournament 2012
Round 1 - Great Awwnime Bracket 2012
Round 1 - Japan Saimoe 2013
Round of 64 - Animefans Saimoe Tournament 2013
Round 1 - Girls Bracket 2013
Round 1 - Best Girl Contest 2014

Between genetics, upbringing and social situation, a person's life is often decided by who their family are. With a giant, eternally hungry skeleton monster among her ancestors, Roromiya Karuta might be an extreme example of the idea. She attends school like other kids her age, but also works part-time as a bodyguard after coming home. Karuta looks patently harmless in her usual appearance, but not so much in her other, humongous skeletal form. Luckily enough, Karuta does not hunger for human flesh, unlike her ancestor, even if she does suffer from an eternally empty stomach.

It is all a lot of trouble, but Karuta does not particularly seem to mind. Her current employer brings her tasty souvenirs whenever he comes back from his trips, and Karuta can eat as much as she wants to without ever putting on weight. With plenty of both human and supernatural friends to have fun with, there is little reason why Karuta should let her unusual background bother her.

But even if there were something on her mind, it would be no small feat to pick that up from Karuta's perfect poker face. It is not that she has anything to hide – that faraway look in her eyes is perfectly natural. Guessing what is going on in her head is certainly a challenge, but a challenge worth the effort.


Past Notable Matches

ISML 2013 Regular Season: (29th Place)
Aquamarine 7: 4008-3946 over Sanka Rea (Sankarea)
Amethyst 3: 3373-3263 over Kirishima Shōko (Baka to Test to Shōkanjū)
Ruby 3: 3359-3387 to Honma Meiko (AnoHana)
Emerald 3: 3601-3651 to Yui (Sword Art Online)
Emerald 5: 3219-3278 to Nōmi Kudryavka (Little Busters!)
Emerald 7: 3351-3373 to Akemi Homura (Puella Magi Madoka ☆ Magica)

ISML 2014 Regular Season: (36th Place)
Amethyst 3: 2300-2350 to Shiomiya Shiori (Kami nomi zo Shiru Sekai)
Ruby 3: 1995-2034 to Laura Bodewig (IS )
Topaz 3: 1760-1912 to Charlotte Belew (Machine-Doll wa Kizutsukanai)


Animefans Saimoe Tournament 2012: (Round of 32)
Round of 32: (566 + 7)-(678 + 11) to Kōsaka Kirino (Ore no Imōto)

Great Awwnime Bracket 2012: (Round 1)
Round 1: 166-182 to Taneshime Poplar (Working!!)

Animefans Saimoe Tournament 2014: (Round of 64)
Round of 64: (541 + 44)-(707 + 1) to Kamikita Komari (Little Busters!)

Girls Bracket 2013: (Round 1)
Round 1: 568-707 to Amatsuka Mao (GJ-bu)

Best Girl Contest 2014: (Round 1)
Round 1: 881-2758 to Sōryū Asuka Langley (Neon Genesis Evangelion)