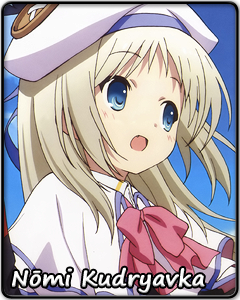 | | |
| --- | --- |
| Name: | Nōmi Kudryavka 「能美クドリャフカ」 |
| Title Series: | Little Busters! |
| Voiced by: | Wakabayashi Naomi |
Career ISML Performance
2013: 28th Place Nova Division. Record: (8-0-27)
2014: 32nd Place Nova Division. Record: (24-0-11)

Moe Tournament Résumé
Round 2 - Japan Saimoe 2013
Round of 64 - Animefans Saimoe Tournament 2013
Round 1 - Best Girl Contest 2014
Round 2 - Japan Saimoe 2014
Round of 32 - Animefans Saimoe Tournament 2014

As the bat flaps its wings in the lonely silence of the night sky, does it ever wish it were a bird instead?

Nōmi Kudryavka, often called Kud for short, traveled all over the world throughout her childhood. In exchange for a myriad of experiences, Kud never stayed in one place long enough to call it home. With her mixed heritage and colorful cultural background, the Japanese classmates in her new high school do not consider her one of their own. But try as she might, Kud cannot quite play the stereotypical foreigner, either. She happens to know much more about the traditional tea brewing ceremony than she does English grammar. Her values and common sense are a mixture too varied to match those of any one nation.

It is difficult enough for Kud to acclimatize, find friends and keep up with schoolwork, but she also has a dream she keeps striving for. Late at night, Kud's eyes follow the twinkling of the stars above. It is the vast expanse of outer space that she must one day reach. Kud has no place on Earth to call her own, but up there in the sky, one of her loved ones is surely waiting.

Before she can think about turning her dreams into reality, however, Kud has to stop getting failing grades on her English tests. This calls for a joint study session with the other members of her baseball team. Hopefully, things will end well… Wafu!


Past Notable Matches

ISML 2013 Regular Season: (28th Place)
Emerald 5: 3278-3219 over Roromiya Karuta (Inu x Boku SS)
Topaz 5: 4029-4143 to Kirishima Shōko (Baka to Test to Shōkanjū)

ISML 2014 Regular Season: (32nd Place)
Aquamarine 1: 3306-3433 to Yukihira Furano (NōKome)
Aquamarine 6: 2708-2820 to Kirigaya Suguha (Sword Art Online)
Ruby 2: 2129-1967 over Laura Bodewig (IS )
Emerald 7: 2999-2926 over Nyarlathotep (Haiyore! Nyaruko-san)
Topaz 2: 2353-2205 over Shiomiya Shiori (Kami nomi zo Shiru Sekai)


Animefans Saimoe Tournament 2013: (Round of 64)
Round of 64: (282 + 2)-(655 + 62) to Kurousagi (Mondaiji)

Best Girl Contest 2014: (Round 1)
Round 1: 821-2378 to Misaka 10032 (Toaru Majutsu no Index)

Japan Saimoe 2014: (Round 2)
Round 2: 237-253 to Ayase Eli (Love Live!)

Animefans Saimoe Tournament 2014: (Round of 32)
Round of 32: (174 + 2)-(498 + 130) to Misaka Mikoto (Toaru Majutsu no Index)