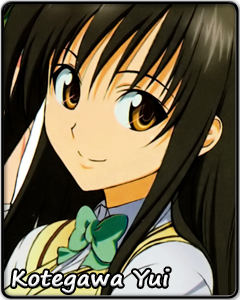 | | |
| --- | --- |
| Name: | Kotegawa Yui 「古手川 唯」 |
| Title Series: | To LOVE-Ru |
| Voiced by: | Nazuka Kaori |
Career ISML Performance
2013: 33rd Place Nova Division. Record: (6-0-29)

Moe Tournament Résumé
Round 1 - Japan Saimoe 2008
Round 1 - Japan Saimoe 2009
Round 1 - Japan Saimoe 2010
Round 2 - Japan Saimoe 2011
Round 1 - Japan Saimoe 2013

"I will not forgive any shameless behavior!"

Kotegawa Yui has the difficult task of keeping the students in her class in line. With certain people in her class bent on doing just about the most inappropriate things imaginable, it is a wonder how she manages to do that without going insane.

A strong believer in proper etiquette, Yui has little tolerance for people who misbehave or go against school rules. Her anger is terrifying, her loyalty to her principles unshaken. Those caught doing something scandalous within Yui's sight should get ready for an earful.

While many people view her as stuck-up, she can be just as girly as any adolescent. Secretly, she has a strong desire for cute things and is fond of cats. Those are not things she can display easily, though, with the responsibility on her shoulders and people expecting her to be the only proper and elegant girl among the sea of chaos.

Torn between how society views her and who she wants to be, Yui constantly goes back and forth with her feelings. At times, she herself is unsure what she truly thinks. However, if someone has to sacrifice their personal desires to maintain the order everyone enjoys, Yui is ready to do just that.


Past Notable Matches

ISML 2013 Regular Season: (33rd Place)
Aquamarine 1: 4446-4427 over Konoe Subaru (Mayo Chiki!)
Amethyst 1: 3856-3879 to Kurasaki Fūko (Sky Raker) (Accel World)
Emerald 4: 3762-3808 to Ayano Keiko (Silica) (Sword Art Online)
Topaz 3: 3821-3902 to Oshino Shinobu (Bakemonogatari)