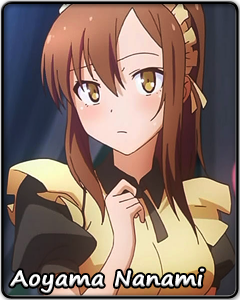 | | |
| --- | --- |
| Name: | Aoyama Nanami 「青山七海」 |
| Title Series: | Sakura-sō no Pet na Kanojo |
| Voiced by: | Nakatsu Mariko |
Career ISML Performance
2013: 6th Place Nova Division. Record: (29-0-6)
2013: 13th Place League Finals
2014: 10th Place Nova Division. Record: (26-0-9)
2014: 5th Place League Finals
2015: 6th Place Stella Division. Record: (27-0-8)
2015: 7th Place League Finals
2016: Round of 16

Moe Tournament Résumé
2013: Anime Saimoe Tournament - Round of 288
2013: Animefans Saimoe Tournament - Round of 144
2013: Baidu Anime Saimoe Tournament - Round of 32
2013: Baidu Nova Moe - Semifinalist
2013: The Great Awwnime Bracket - Round of 128
2014: Animefans Saimoe Tournament - Round of 144
2014: Baidu Harem Moe - Round of 64
2014: Baidu Nova Moe - Quarterfinalist
2014: Best Girl Contest - Round of 32
2014: The Great Awwnime Bracket - Quarterfinalist
2015: Best Girl Contest - Round of 64
2015: Miss Anime Tournament - Round of 32
2016: AnimeGirl Saimoe Tournament - Quarterfinalist
2016: Best Girl Contest - Round of 128

Aoyama Nanami is the definition of a hard worker. Here is a girl willing to take as many part-time jobs as she can to afford the tuition fee for a voice acting school on top of her standard school duties. Always out of time and barely making ends meet, Nanami has no intention of letting such trivial trouble deter her from pursuing the dream job she desired for so long.

However, pure determination is not always enough to solve all of life's problems. There are times when hard work does not pay off. Nanami knows this, but her drive to push forward overrides these negative thoughts. But when pushed to the corner, Nanami has no choice but to accept the reality of her situation. It hurts, but she must move forward. Otherwise, she would have to admit that her efforts to come this far were all a waste.

Nanami desires to be an adult, someone who can work independently and prove that things can go her way if she tries hard enough. When up against a challenge, Nanami cannot say "No." The road ahead of her is filled with pain and sorrow, but Nanami must endure those trials. This is her life; this is her choice.


Past Notable Matches

ISML 2013 Regular Season: (6th Seed)
Amethyst 7: 3941-3875 over Chitanda Eru (Hyōka)

ISML 2013 League Finals: (13th Place)
Round of 16: 4357-5402 to Misaka Mikoto (Toaru Majutsu no Index)

ISML 2014 Regular Season: (10th Place)
Amethyst 6: 2883-3055 to Takanashi Rikka (Chūnibyō demo Koi ga Shitai!)
Amethyst 7: 3367-3315 over Kurousagi (Mondaiji)
Topaz 2: 2536-2553 to Yatogami Tōka (Date A Live)

ISML 2014 Championship: (5th Place)
Round of 16: 3818-2742 over Eucliwood Hellscythe (Kore wa Zombie Desu ka?)
Quarterfinals: 3725-4218 to Itsuka Kotori (Date A Live)

ISML 2015 Regular Season: (6th Place)
Amethyst 7: 3506-3622 to Aragaki Ayase (Ore no Imōto)
Ruby 1: 2633-2598 over Nakamura Yuri (Angel Beats!)

ISML 2015 Championship: (7th Place)
Round of 16: 2790-4682 to Sakura Chiyo (Gekkan Shōjo Nozaki-kun)


Japan Saimoe 2013: (Round 1)
Round 1: 144-98-195 over Nakagawa Kanon (Kami nomi zo Shiru Sekai) & to Yuigahama Yui (OreGairu)

Animefans Saimoe Tournament 2013: (Round of 144)
Round of 144: (250)-(403)-(366 + 7) to Akaba Chizuru (Seitokai no Ichizon) & Hirasawa Yui (K-ON!)

Girls Bracket 2013: (Round 2)
Round 2: 683-872 to Haqua du Lot Herminium (Kami nomi zo Shiru Sekai)

Great Awwnine Gracket 2014: (Quarterfinalist)
Quarterfinals: 496-641 to Kirisaki Chitoge (Nisekoi)

Best Girl Contest 2014: (Round 5)
Round 5: 2855-5372 to Senjōgahara Hitagi (Bakemonogatari)

Animefans Saimoe Tournament 2014: (Round of 144)
Round of 144: (251)-(517 + 40)-(362) to Kurousagi (Mondaiji) & Kamikita Komari (Little Busters!)

Best Girl Contest 2015: (Round 4)
Round 4: 4555-5817 to Araragi Karen (Monogatari Series)